What is Soy Protein Isolate?
Soy Protein Isolate

It is a protein powder isolated from soybeans which is almost fat-free as it contains about 95% protein.

Function: It is used in the food and beverage industry and also as a dietary supplement for muscle building and weight loss.
Soy refers to soybeans which can be processed into soy milk – a beverage which may contain fortified calcium from soybeans, soy protein – a protein powder or soy fiber – made from the fibrous portion of the soybeans. Soy protein isolate commonly occurs in a dry powder form and is isolated from the other components of soybeans. It is about 95 percent protein, making it almost fat- and carb-free. Most commonly, soy protein isolate is available in the market as either plain or flavored shake powder.
Benefits of Soy Protein Isolate for Muscle Growth
Soy protein has the following benefits for body builders:
Performance enhancement
Increased muscle mass
Decreased fat mass
Increase in muscle strength
Increased muscle growth
Preventing muscle loss
How Does It Work?
Soy protein contains isoflavones which are classified as phytoestrogens or commonly called as plant estrogens. There has been some misconception about soy protein decreasing testosterone levels in men and promoting feminine characteristics but according to a meta-analysis (www.ncbi.nlm.nih.gov) of different research publications, it has been found that soy protein does not decrease testosterone levels.
Growth Hormone
It has been found is that soy protein increases the levels of growth hormone (GH) in the body. Soy protein contains the amino acids lysine and arginine which are known stimulate the release of GH. GH increases muscle growth and strength leading to enhanced performance of athletes and body builders alike.
Read More: Whey Protein Concentrate: How It Works, Benefits, Clinical Studies And Side Effects
Other Benefits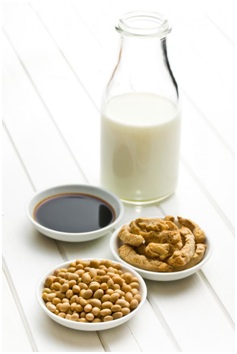 There are many uses and benefits of soy protein as follows:
Serves as a fat-free source of nutrients as it contains less than 1% of fat
It may lower blood cholesterol
It makes blood vessels more flexible
It can help in reducing high LDL cholesterol
May help in removing menopausal symptoms and PMS (Premenstrual Syndrome)
It's abundantly used in the food and beverage industry for making different products such as fruity drinks, sauces and soups, fortified milk powders, beverage powders, boxed meals, infant formulas, power bars, cereals and cornflakes, bakery items such as bread, cakes and pastries, soy meat, etc.
It serves as a complete vegetable protein as it contains the amino acids which are essential for growth. The amino acid content is similar to that in eggs, milk and meat.
It may help in preventing osteoporosis
It may help in the prevention of some cancers
It slows the progression of kidney disease
It is also used as a treatment for digestive disorders such as diarrhea and constipation
It can treat muscle stones caused by intense exercise
It helps in weight loss
Clinical Studies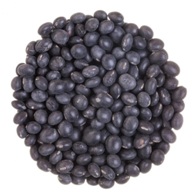 In a study (www.ncbi.nlm.nih.gov) conducted on eight women, it was found that soy protein increased the levels of GH in the body. The participants were given complete soy protein, hydrolyzed soy protein, an amino acid combo or a placebo.
Side Effects
Using soy protein as a medication or supplement is possibly safe. But some people may experience the following mild side effects:
Nausea
Vomiting
Bloating
Constipation
Allergic reactions that cause itching and rashes
A word of caution
Even though soy protein is quite safe to use for healthy individuals, people with certain health complications need to be cautious while starting with soy protein supplements:
High medicinal doses of soy protein must be avoided during pregnancy and breast-feeding as it may interfere with the development of the baby
Make absolute sure that you don't have any soy allergies before starting on your soy protein supplements
Children with cystic fibrosis should steer clear of soy as it can interfere in protein processing
There is conflicting evidence of soy for breast cancer; some supports the role of soy protein in prevention while some research suggests that it can feed the cancer cells leading to cancer growth
It might worsen hypothyroidism
Diabetics taking medication for regulation of blood sugar are under the risk of plummeting blood sugar levels
People with asthma, hay fever and milk allergies should avoid using soy because it might trigger certain allergic reactions
Conclusion
There has been a lot of conflict regarding the role of soy protein in changing the testosterone levels in men. It has been established through research that soy protein does not reduce testosterone levels, but rather increases the levels of growth hormone in the body. The growth hormone is responsible for increasing lean muscle mass and enhancing performance. If you do not have any medical conditions then you can safely use soy protein isolate for supplementing your muscle training. Just make sure to have a word with your doctor before you start on soy protein so as to avoid any health complications that might occur.

Sohail has been searching diets and belly fat solutions for over a decade, and manage a pool of trained authors to write articles, which have helped thousands of readers to this date. He has CPD accredited Certificate in Nutrition for Weight Loss besides his MBA degree. He also owns this website, which he founded in 2013 to share his ideas and knowledge. Not to mention he has tried numerous supplements over the years and has an extensive and thorough knowledge on supplements. Besides spending time on his study, research and literature, Sohail loves swimming, gardening and travelling.