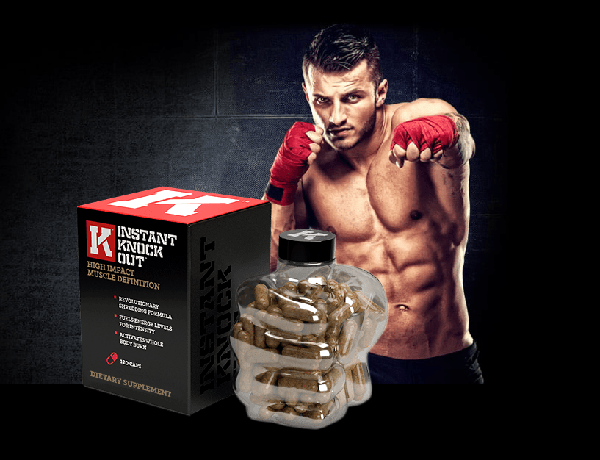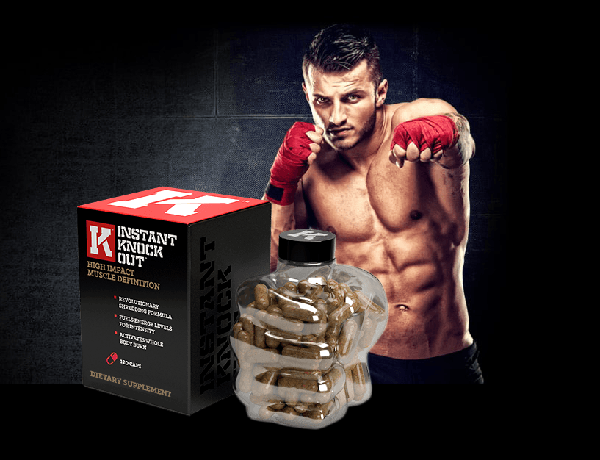 Aside from Roar Ambition's somewhat cheesy marketing, the eponymous company behind the product has developed something quite remarkable: a fat-loss product which it claims comes with practically no-side effects or interactions with medications. While we take a more cautious approach (and would prefer to say that Instant Knockout *probably* has no off-target effects), there's no doubt that Instant Knockout Cut is a leading contender in the race for the best fat burner on the market.
Instant Knockout Cut: The Details
Instant Knockout Cut is a fat burning supplement primarily focused on people who are interested in fitness. Like many of the other leading supplements on the market, it contains a range of ingredients which work in synergy to help mobilize fat and prevent it from being laid down in the first place, attacking fat deposition from multiple angles.
What's so fascinating about Instant Knockout Cut is that all of the ingredients are natural or naturally-derived. There are no steroids, pharmaceutical chemicals or anything else constructed in a lab – just the sort of thing that you might use in your cooking, helpfully combined into an easy-to-pop pill.
Manufacturer, Roar Ambition, states that using Instant Knockout Cut is "a bit like flicking the fat-storing on/off switch" – it can shut down the body's propensity to store fat by "tuning up" your metabolism and making chemical adjustments that help the body to burn fat more effectively.
Who Should Take Instant Knockout?
Although anyone can take instant Knockout Cut, it's clear from the company's website that it is targeting men and women who enjoy fitness and bodybuilding. The branding, the fact that the bottle is shaped like a fist, and the direct marketing to "MMA fighters and boxers" tells you that this is a supplement with a singular focus: to help people get ultra-lean.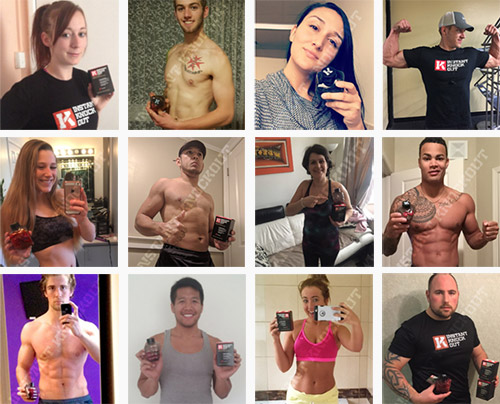 How Does Instant Knockout Attack Body Fat?
Boosts Energy. Instant Knockout Cut assists with fat burning through three distinct channels. Perhaps the most innovative of these is the product's ability to fuel higher energy levels. Instant Knockout realized that if people were to be successful during a "cutting" (or weight loss) phase, then they needed a supplement that provided them with the energy to train, even during a caloric deficit.
Instant Knockout Cut, therefore, contains factors which assist in reducing fatigue and improving focus, making long cardio sessions more bearable and boosting fatigue-resistance in bouts of heavy weight training. The company has tried to make burning fat less painful by giving people the sensation that they have high energy levels every time they train.
Curbs Hunger. Training naturally suppresses hunger signals but what about the rest of the time? After all, the average person spends the vast majority of their day outside of the gym. Instant Knockout says that it has solved this problem by including ingredients that curb appetite naturally, suppressing hunger signals from the stomach.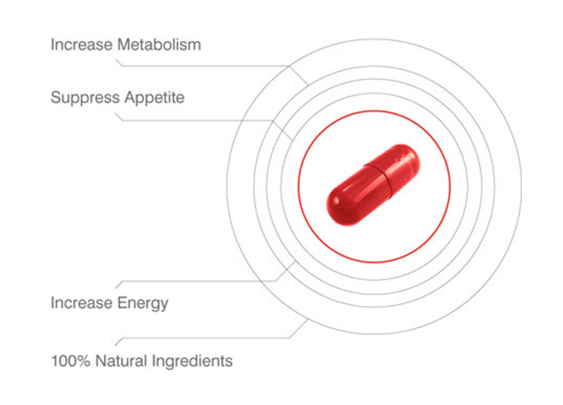 Increases Basal Metabolic Rate. BMR, or the energy that you burn at rest, forms the bulk of the calories that your body burns during any given day. Instant Knock contains factors which naturally increase the rate at which basic metabolic processes happen so that you consume more energy overall, regardless of activity levels.
Instant Knockout Ingredients
So what does Instant Knockout Cut contain that makes it so potent?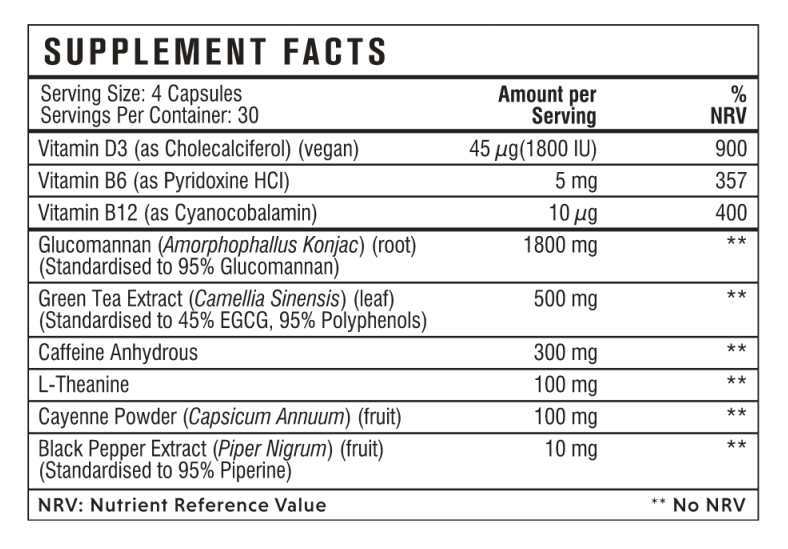 Green Tea Extract. Green tea has multiple fat burning actions in the body. It can increase the rate at which the body burns energy for fuel by up regulating the mitochondria – the tiny energy-generating organelles that power the cell, and it can encourage fat oxidation (or the burning of fat in long-term storage) by an impressive 16 percent (1). There's also evidence that green tea primes the body to keep weight off, helping to consolidate results.
Cayenne Pepper Seeds. Although cayenne pepper is rich in a range of nutrients which support basic metabolism, the most exciting thing about the spice is the high concentration of capsaicin. Capsaicin is an alkaloid found in chilis which research has repeatedly shown (2) boosts metabolic rate, causing people to expend more energy while at rest. It is thermogenic, meaning that it raises the core temperature of the body, upping energy expenditure.
Glucomannan. The more scientists investigate the role of fiber in keeping humans a healthy weight, the more they discover that it is an essential part of long-term weight control. This point isn't lost on Instant Knockout, who have included glucomannan, the fiber of the konjac plant, in their supplement. Glucomannan works in synergy with green tea and cayenne pepper to boost feelings of fullness and curb snacking.
Caffeine. Like many other belly fat loss supplements on the market, Instant Knockout includes caffeine, shown in multiple studies to reduce fatigue and reduce pain sensitivity during heavy workout sessions.
Piperine. Piperine is a phytonutrient in black pepper. Piperine can switch on fat burning receptors in the body – TRPA1 and TRPV1 (3) – and upregulate the ability of the body to burn fat on a sub-cellular level. Again, Instant Knockout is looking into nature's pharmocopia with piperine and selecting a chemical that is both safe AND effective.
L-Theanine: L-Theanine is an amino acid which reduce the amount of carbs and fats by increasing metabolism. It is also known to promote calming, relaxing your mind and helping you with quality sleep. Adding this ingredient in Instant Knockout Cut makes sense when the supplement is known to contain relatively high caffeine dosage, so the users can burn and build without the jittery, restless feelings.
Vitamin D: Reduce BMI (Body Mass Index) by altering the storage and formation of fat cells (source). Vitamin D also increase the level of testosterone which reduces the size of belly. Moreover, it improves the absorption of calcium by many folds leading to stronger bones. Only
Vegan D3 vitamin is used in Instant Knockout Cut.
Vitamin B6 and B12: Both vitamins support in neurotransmitter communications, clearing brain fogs and boosting mood, keeping you focused and motivated. Vitamin B6 helps with metabolism and B12 helps in generating extra energy, which gives a better chance of hitting your fat burning goals.
Are There Any Side Effects You Should Know About?
Due to high caffeine content, many users used to complain about restlessness and nervousness who were a bit caffeine intolerant; however, adding L-Theanine in the new ingredients formula has smooth out the possible jittery feelings.
Some people may still have sleeping problem. So it's better not to have the last dose late evening or prior to close to bed time.
Who Shouldn't Take Instant Knockout?
While practically anyone can take instant Knockout (despite the product's clear bodybuilding/strength training marketing focus), it isn't suitable for people who are sensitive to caffeine. Each daily serving contains 300 mg of the stimulant, or about the same as you might find in two large, strong cups of coffee. What's more, if you're somebody who likes to drink coffee in the morning, you may quickly find yourself exceeding the safe recommended daily intake.
The high caffeine content may also make Instant Knockout unsuitable for people with heart conditions, like tachycardia. Caffeine can potentially worsen symptoms.
The Top Benefits Of Using Instant Knockout Cut
All-natural and vegan friendly ingredients

Multiple mechanisms of fat burning action, including blocking fat from being absorbed into the blood stream

Contains super foods, like cayenne pepper and green tea

Improves training motivation by increasing energy

Reduces pain during workouts

Blocks dietary fat from entering the bloodstream

Prevents the storage of fat

Boosts the body's resting metabolic rate

For women and pro athletes
What Do Customers Have To Say About Instant Knockout?
Jay, UK:
I had been lifting and working out for about 2 years, I had gained some muscle size but I still had the same amount of fat on my body. No 6 pack and not much definition on my arms and chest.
I searched around for a fat burner, Instant Knockout came up as one of the best rated. I bought a 4 month supply and got the shirt. After a couple of weeks of taking this I had a lot more energy and felt more motivated to work out. I went from going to the gym 2 – 3 times a week, to 4 times per week. When I was in the gym I didn't burn out as quickly and I felt stronger.
In 3 and a half months I have gained muscle and lost fat. I now feel a lot more confident hitting the pool or beach.
Tori, USA:
I only bought one bottle at first because, like everything else I had tried, I wasn't sure if this would work. I did a lot of research before purchasing and saw all the amazing results everyone seemed to be getting, so why not me?
As a former two sport collegiate athlete I found it difficult to stay in shape after sports were no longer an every day part of my life. I recently took up boxing and needed to drop a weight class in order to fight. Before I started instant knockout, I was spending hours in the gym and wasn't seeing any results. I was always super fit during my seasons.
Once I started taking the pills, I tweaked my diet slightly, staying away from processed food and red meat, and kept my work out routine the same. I see progress after every workout. I have energy all day, sleep better and find it easier to wake up in the morning. I look better but more importantly, I feel better.
These pictures were taken just one month apart, had I known it was going to work as quickly as it did, I would have taken better quality pictures. I'm excited to keep this going!
Before And After Photos
Instant Knockout Cut wants to prove to customers that it has the power they need to start burning significant quantities of fat. Take a look at some of these impressive transformations of people who have used the product.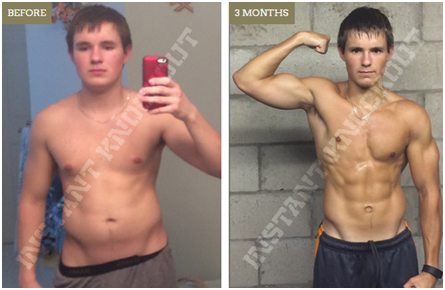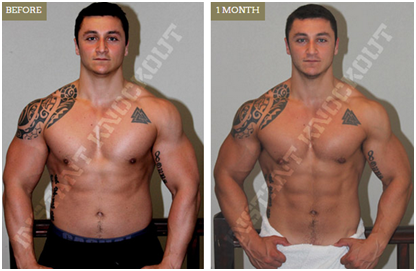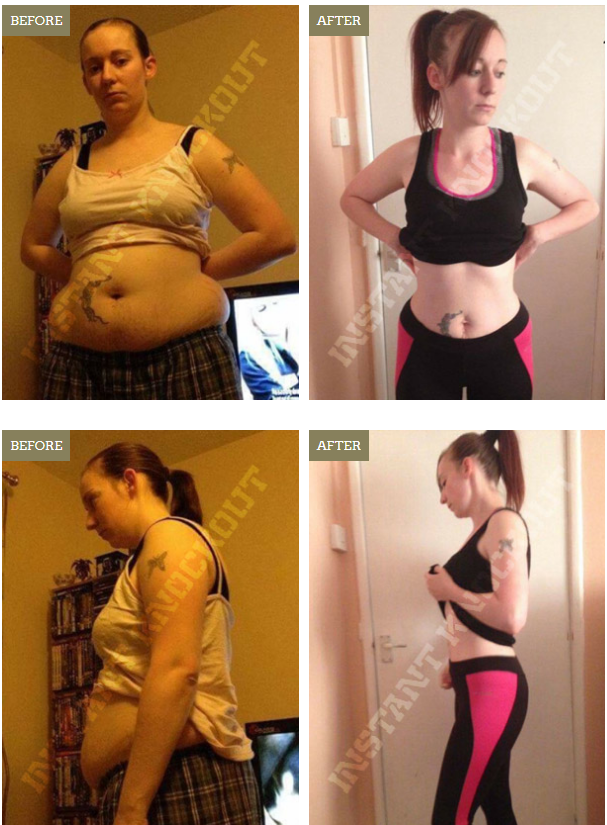 Frequently Asked Questions About Instant Knockout Cut
How many capsules/serving in a bottle?
120 tablets. 30 servings.
How to Take It?
Take four capsules per day, one first thing in the morning, one at lunchtime, one in the afternoon, and one before your evening meal.
Can I take it with my prescription medications?
The caffeine content means that Instant Knockout may interact with drugs such as adenosine, hydroxyprogesterone, tizanidine, and vemurafenib.
Is it for vegetarians?
Yes. Instant Knockout Cut's new ingredients formula has been replaced gelatine coating with HPMC (Hydroxypropyl methylcellulose), which is a non-fermentable dietary fibre and suitable for both vegans and vegetarians.
Does it contain stimulants?
Yes
Is it Legal?
Yes. Instant Knockout does not contain steroids or any other controlled substances.
How long should I take it for?
2 months followed by a one-month break.
When to Expect Results?
From second week onwards.
How to boosts the results?
Instant Knockout works best when combined with regular exercise and a healthful diet.
What Might Some People Not Like About Instant Knockout Cut?
High caffeine content (75mg per capsule) which may interrupt sleep and heighten anxiety in people prone to the condition

Instant Knockout's money-back guarantee requires that you take the product for a full 30 days (USA), 14 days (UK and Rest of the World) before being able to claim a refund (if you open the bottle). You must also fulfill other criteria, such as eating a calorie-controlled diet, which would appear to cloud the independent effect of the supplement. The refund only applies to the first order.

Not particularly easy to use: requires taking four tablets at set times of the day.
What We Love About Instant Knockout Cut As A Product And Brand
International shipping options. Get Instant Knockout delivered all over the world.
Trusted. Many thousands of pro athletes already use Instant Knockout to support fat loss
Preserves muscle mass. Instant Knockout contains factors which preserve muscle mass during weight loss, preventing loss of strength and a slowdown in metabolic rate.
No steroids or any other banned substances. Instant Knockout is safe for competitive athletes.
Contains natural ingredients. Superfoods like green tea, shown to support overall metabolic health, piperine in pepper, and cayenne pepper round out the ingredient list.
Can help athletes push through fat loss plateaus. Burning those last few pounds of stubborn belly fat can be a challenge. Instant Knockout provides users with the support they need.
No cost-cutting. Instant Knockout uses only quality ingredients in its formulation for optimal results.
The Big Question: Should You Try Instant Knockout Cut?
Whether you try Instant Knockout is, of course, a personal choice. But this is clearly the go-to supplement for people in the MMA, bodybuilding and pro athlete arenas, thanks to its ability to help push through fat loss plateaus. The beauty of the product is not so much in its ability to induce thermogenesis, but the fact that it offers practical support to an overarching weight loss strategy.
People who should use this product are those who struggle to maintain exercise intensity while trying to lose weight. Instant Knockout provides an extra kick which can help you complete strenuous workouts, even when following a calorically-restricted diet.
In short, if you are an athlete preparing for a competition and need to get body fat levels down, then Instant Knockout should be on your list of supplements to try. Likewise, women who want to tone up and feel good for an event, whether sporting or otherwise, stand to benefit enormously. Instant Knockout can provide that extra push needed to burst through weight loss walls and achieve a better physique.
Stuff You Need To Know About Buying Instant Knockout Cut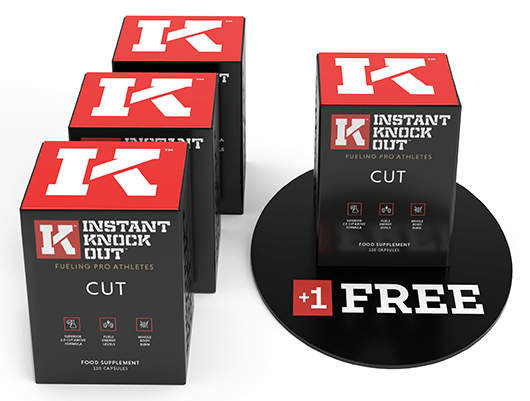 a) Where can you buy it from?
At present, you can only purchase Instant Knockout through the company's website.
b) How much is the delivery cost?
Instant Knockout offer free worldwide delivery, and free delivery in the US and UK.
c) When will you receive your order?
If you live in the UK and select 48 -hour tracked delivery, you will receive Instant Knockout in 1-2 working days. Royal Mail Special Delivery will deliver in 1 working day.
For those living in Europe, Instant Knockout ship using Royal Mail International Airmail with an expected delivery time of 3 – 6 working days. Those in Europe can speed the process by choosing DHL Express and get delivery in 2-4 working days for orders placed before 1 pm GMT.
Delivery in the US, Canada or Mexico takes 2 – 4 working days using USPS Priority Tracked. Orders to non-mainland North America take 5 to 10 working days.
Orders to Australia and the rest of the world take 5 to 15 working days via Royal Mail International Airmail or 2 – 6 working days using DHL Express.
d) What if you don't like Instant Knockout? Can you get a refund?
Instant Knockout accepts returns of unopened products within 30 days of arrival in the USA and 14 days of arrival in the UK and rest of the world. Unfortunately, the parent company (Roar Ambition) doesn't operates a 90-day money-back guarantee anymore like it used to for years. Those days if you didn't see any results after having taken the product for 90 days, you could have send back your empty bottles for a full refund.
e) How to Get Instant Knockout for Cheaper.
Getting Instant Knockout Cut for cheaper is easy. A single bottle giving you one month's supply costs £35. If, however, you buy three bottles for £110, you'll get a fourth thrown in for free, saving more than £30 overall.
Final Verdict: Is Instant Knockout Cut Any Good?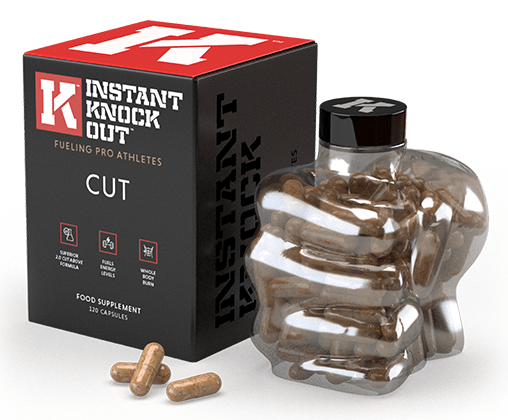 Instant Knockout Cut comes with a plethora of impressive benefits, also get a lot of money off the list purchase price if you buy in bulk.
In our opinion, Instant Knockout Cut works. The product cleverly combines factors which both enhance fat burning at the cellular level, block fat absorption from dietary sources, improve satiety and reduce fatigue. The combination of all of these elements in synergy is a fat burner that can quickly accelerate your existing fat loss goals.
Should you try Instant Knockout Cut? If you're in the market for a supplement that will help you get in shape for a competition or an event, then Instant Knockout should definitely be on your shortlist.
Click Here to Order Instant Knockout Cut Directly from the Manufacturer
Sources & References
Disclaimers
Individual results may vary. We sometimes receive free products to review and may earn commissions on purchases made through links on this page. We assure you the price you pay for any supplement you buy with our recommendations is the listed retail price, and you are not paying anything in excess.

Sohail has been searching diets and belly fat solutions for over a decade, and manage a pool of trained authors to write articles, which have helped thousands of readers to this date. He has CPD accredited Certificate in Nutrition for Weight Loss besides his MBA degree. He also owns this website, which he founded in 2013 to share his ideas and knowledge. Not to mention he has tried numerous supplements over the years and has an extensive and thorough knowledge on supplements. Besides spending time on his study, research and literature, Sohail loves swimming, gardening and travelling.